So, something surprising happened this week. I got a mail from a website that I have been put on a list. I was selected for the "Top 100 best gaming blogs on the planet" list that has been written by the people over at FeedSpot. Here is a link to the article. I also got a badge to display on my blog at the side. So, yeah. This is something special.
The honor
Foremost, I want to thank the people over at FeedSpot for putting me on this list. Honestly, my placement on the list doesn't matter to me that much, it's the fact that I'm on the list. I'm number 96.
Writing is in the first place a hobby of mine. But I will talk more about that later. It just feels amazing that I get recognized by somebody. It's difficult to describe how this feels. But one thing is for certain, I have to continue to write and provide the best content for you guys (and girls) that I can write.
Me & blogging
So, I might have talked about this in an earlier article… But the reason why I blog is that I want to share my experiences in my gaming and collecting life with the internet. In the past, I was toying around with the idea to expand my blog to also talk about other things. Things like movies, IT-stuff, anime and so much more.
But I decided against the idea. I mostly wanted to continue and write a gaming diary. Because gaming is a big hobby of mine. Hrm, maybe it's a good idea that I talk a little about my blogging history.
My blogging story starts about, give or take, 5 and a half years ago. After a few other projects, I decided to start creating my own website. Where I have a place to talk about things and share it with my family and friends and also with the world. At first, I created a Dutch blog. After a month or two, I was watching a game-news show on TV. It was around the time that the 3DS was presented at E3. I highly disagree with some statements of the hosts and I wrote a whole article about it.
It didn't take long before the hosts actually had seen the article. One of the hosts actually wrote a entire comment on that article and invited me in the studio. Sadly enough, I had to prepare for exams, so I wasn't able to go. But I have the comment and the article on one of my hard drives. So, when I watched the next day to the show, they mentioned my article. Then, I saw a huge traffic spike.
Since then, I have continued blogging. After two years, I decided to remove the Dutch blog and go on a small hiatus. Yet, I started to miss blogging about games. When I was playing games, I kept thinking on what I would say in a review. So, on the 20th of May 2013, right after I finished the new Tomb Raider game; I decided to write a review for it. I logged in to my WordPress account and started writing.
After some time passed, I got in contact with LpGardian. He is the owner of ButtonSmashers. But, that's a story for another day. Maybe in one of his podcasts. Who knows?
So, that's my blogging history. Well, in a very short version. Since I could tell so many more stories. While I don't have a big following, the fact people follow my blog and read my content makes me happy. I enjoy writing these articles. I enjoy playing these games and then writing an article about them to talk about my opinions. Furthermore, I'm quite happy with the growth my blog has made over the past three years now. I'm quite curious what the future will bring. I'm planning to continue to write new articles about games I have played or my opinion on something in the gaming industry.
Anyway, here is the actual award: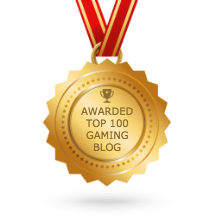 But, before this article goes on for too long. I want to thank everybody who has supported me or my blog. Thank you for reading, linking to my articles, talking about my articles, commenting, replying to my tweets… Thank you guys and girls for everything. And don't worry, I will continue to write articles.
In any case, thank you for reading this article and I hope you enjoyed reading as much as I enjoyed writing this. I hope to welcome you in another article on my blog, but until then have a great rest of your day and take care~!